👩‍💻 Life at Akeneo 👨‍💻
At Akeneo, our teammates are the driving force behind who we want to be as a company.
We value a great working environment and culture. We try our best to make everyone feel comfortable in the office, at home and in the overall organisation. Benevolence, humility and openness are key elements in how we work and interact with each other. We also believe a good work-life balance makes people engaged and successful in their job.
We want you to grow this us. Working at Akeneo constitutes a great opportunity to play a role in the innovative and fast-paced e-commerce and SaaS industries. You'll be able to grow and develop your career, have the opportunity to work with the best and most exciting brands, and work with colleagues from all around the world.
We need you to help us grow "well". At Akeneo, each teammate can impact the business and the company. We encourage everyone to take initiative, share ideas and innovate. We also regularly survey our teammates and involve them in defining what we want our company to be tomorrow and what it should play in its industry and beyond.
Akeneo in numbers 📊
💰 Million raised in total
Akeneo Fall Kudos 2022 - The Butter[akene]fly effect #chainreaction
Get to know Xavier, Engineer Director Site Reliability Engineering
Get to know Kateri, Growth Marketing & Global Campaigns Manager
Get to know Mégane, Product Manager
Get to know Kim, Manager of Customer Success
Get to know Adrien, Software Engineer
Get to know Tom, Account Executive
🇫🇷 Meet Steven, Software Engineer at Akeneo ! #UnJobàNantes
Our values ✊
Humility ☺️

We want to become better at what we do, and we acknowledge that we are not there yet.

Innovation 🪄

We take pride in developing an open-source solution. This makes our solution powerful, open to everyone, and we are very attentive to our code quality.

Benevolence 💜

We believe everyone is doing their best, and we commit to helping each other in a friendly way, with an 'open door' policy.

Openness 🤝

We love hearing new ideas and opinions. We are always excited to welcome new employees with different backgrounds who can share their experiences and challenge our status quo.

Beer 🧃

We do serious business without taking ourselves too seriously. We love to get together and share fun moments at work.
Akeneo is committed to providing a friendly, safe and welcoming environment for everyone who works for or with us, regardless of gender identity and expression, sexual orientation, disability, physical appearance, medical condition, race, age, family status, religion (or lack thereof) and other personal features and preferences. We create the right conditions for you to feel safe and be yourself!
Perks and benefits 🎁
🎉 Annual All Staff gathering week, office parties, team offsites

Experience the Akeneo values of Humility, Innovation, Benevolence, Openness and Beer from within!

🧳 Office switch program

Once a year, travel to another office location for a period of 2 weeks.

👋 Top-notch 8-week onboarding program for new joiners

Live presentations, online courses you can take at your own pace, and an exhaustive checklist with all the resources, calls-to-action and support contacts for a smooth integration into the company.

⏰ Flexible working hours, hybrid home/office policy

Get the work-life balance that you need with flexible working hours, and the option of working from home as well as from our offices.

🧘 Mental health benefits

Take care of your mental and emotional well-being with individual and confidential coaching sessions with a mental health practitioner of your choice.

💻 IT equipment & Remote allowance

Choose whether you prefer working with MacOS, Windows or Linux, and spend your personal remote allowance to maximize your work environment when/if you're working from home

🔊 Communication & work tools

Communicate and collaborate efficiently with your teammates thanks to the best tools out there: Slack, Notion, Google Suite, Jira, GitHub...

🎫 In-house & industry events

Enlarge your horizons by participating in in-house events welcoming external guests (ie. Meetups) or industry events.

🧑‍🏫 Keep learning

Thanks to group and individual training opportunities and attendance at the yearly business or tech conference of your choice.

🤲 Employee volunteering program

Give back to the community with two days per year dedicated to supporting the charities of your choice.

🤩 And more...

We also offer private healthcare for most of our entities, generous parental leave and PTO, 401k with company match and more! Don't hesitate to check our job descriptions to learn more about the benefits we offer in your country!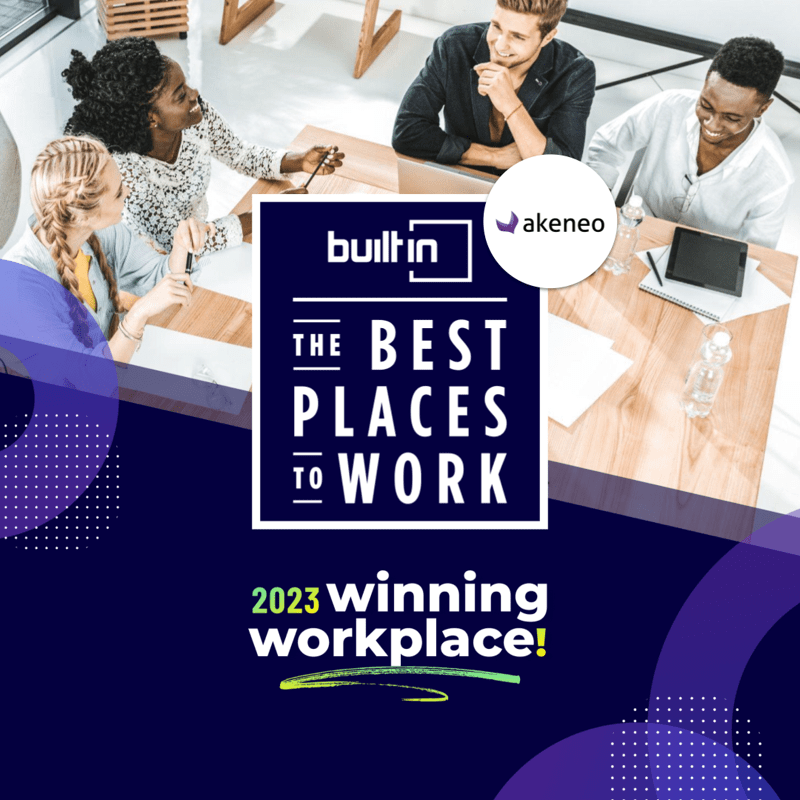 About Akeneo
Akeneo Product Cloud is the complete and composable SaaS-based solution to activate your product story wherever your customers are. Deliver engaging, world-class product experiences across all of your owned and unowned channels with agility and accuracy.

Already working at Akeneo?
Let's recruit together and find your next colleague.